Well hello there - I am Melanie (Mel) - a 32 year old full time working mom from the Midwest - the beautiful city of St. Louis - where the weather sucks the majority of the time and you hope you don't get shot walking on the streets, BUT I love it here. So I won't bore you with my background. If you really want to know a little about me and my background - check me out
HERE
. I will get right to point on why I am writing this "Day in the Life of" post.
I finally decided to REALLY blog about a few months ago and you can see how well I am doing with my 17 followers - you love me you really really love me - ha. no for real, I blog because I love to express my feelings and day to day findings - it keeps me sane. I found this adorable blogger named
Holly
through searching around the blog world, AND I adore her. Guess what else - come to find out, she lives here in this FABULOUS city - must be fate...
So let's get to it...
4:15 a.m
. the alarm goes off - the Beep.Beep.Beep kind - old school style. I wake up and fumble to the bathroom where I get on my workout clothes and head downstairs to the treadmill for a little pre-brain run, squats, push-ups, and morning crap like that. Yep... I like morning workouts the best - or so I tell myself.
Yep - me, my bathroom, and 4 a.m. - Wooo Whooo.
5:45 a.m.
bum in the shower and getting ready. I don't wear make-up to work so I can get ready in 20 minutes FLAT. Why don't I wear make-up - because I am too lazy and honestly just.don't.care.
6:10 a.m.
start to wake up my lovely daughter - fight with her about her clothes (read about that fun right
here
) - then wake up Mr. Wes man - who likes to wake up saying "Daddy here?". No baby he is not - he gets to get up, dress, drink coffee all in silence and head out like a boss. Whateva.. I am over it
not really
. We have a snack, I snuggle my babes and read them a story - our morning ritual. We say bye to the dog off we go...
Snack time - so sweet and innocent... BAH!
7:10 a.m.
drop off at daycare - I LOVE THE
GODDARD SCHOOL
- plug.plug.plug. No for real that place rocks and my kids love it. Elle has been there since she was 1 (she is now 5) and Wes has been there since a wee babe. Back that school 110%.
7:15 a.m.
ME TIME. Yes this 45 minute drive to work is MY time to relax. People ask why I put up with driving 30 miles to work - because it is 45 minutes of
Woody & Rizz
radio, people watching (you know the car nose pickers, the girls smacking their lipstick on, those who spill coffee on their shirt, the road ragers, the flirters, the car singers (I am one), the mumblers, etc...), AND the best thing of all, SILENCE.... well besides the car horns and super loud trucks. I have to admit, I love NOT listening to Disney radio, NOT hearing constant fighting in the backseat, NOT wanting to stop at every McDonald's - NOPE the awesomeness that is, silence AND some good ole politically incorrect radio. HUZZAH!
8:00 a.m. - 4:30 p.m
. Work. I love love love my job. I know you might not hear many people say it - but I do. I work for a large Health Care System and honestly LOVE coming to work everyday. My co-workers are great and my bosses are irreplaceable. I honestly feel so lucky to have fallen into the door here, 8 years ago. I was fresh out of college and God must of been looking out for me:) Best.Job.Ever.
4:30 p.m.
Drive home - now this drive is stressful - the highway is packed and people act like idiots at the end of the day. So I turn on some STP (Stone Temple Pilots - for those who don't know) or Smashing Pumpkins and listen to my own thoughts - usually this incurs "What's for dinner tonight?". Ugh...
5:15 p.m
. HOME... Eric is the picker upper of the kids - isn't it funny how the moms drop off and the dads pick up the majority of the time
or is that just me
? HA.. So I run upstairs and change into sweats and take off that dam* bra. Alls out for dinner making - because that is how I roll. So I have about 15 minutes to start prepping dinner - and so it goes.
5:30 p.m.
In walk my babies and lover - ha. I kiss & hug them, ask about their day, and then the kids want snacks, water, dinner, to draw, to play Candyland, etc... Let the chaos that is my family begin - but I love every minute of it. Eric just wants to eat and sit - poor guy - NOT!
Walking in after school - Hai Hai lovely sweets.
6:00 p.m.
I am BIG on family dinners - so we ALL sit down to eat and we STAY seated until EVERYONE is done. Yep I am hard core. HA... clean up ensues and off to the races... Did I mention most of dinner is Eric and I telling the kids "stop playing and eat". Yep - fun, I am sure you moms know the song and dance.
6:45 - 8:30 p.m.
is pretty much a blur... There is dancing involved, saying "poopy head", many games of Candy Land, baths, more dancing, singing Bieber, singing Elmo, cart wheels, somersaults, saying "wiener", concerts, pageants, wrestling, and finally it ends with Eric saying "I have had enough". Oh why babe, cause you have it so hard? HA! Love ya though. Wes goes down around 7:30 p.m. and Elle gets to stay up until 8:30 p.m. - so off to dreamland for my babes.
Coloring on the Patio
What Elle is usually doing - posing.
Wes's usual after school face

.
9:00 p.m.
showers for Eric and I, and finally we lay in bed and talk
check our phones
, watch the news, talk some more
check our phones again
, and fall asleep. and we all get to get up and do it AGAIN tomorrow. YAY.
No... I love my husband (some days) absolutely adore my precious gifts (Elle and Wes). I heart my job, family, and friends. Honestly, I wouldn't trade my life for ANYTHING - except maybe Princess Kate - she got it good! LOL
Thanks to all those peeps who checked me out and if you want to follow me - feel free - those other 17 people did AND they RULE. A special THANK YOU to
Holly
and
Amy
for hosting this linked up fun. If you want to join or want to check it out - click the link below...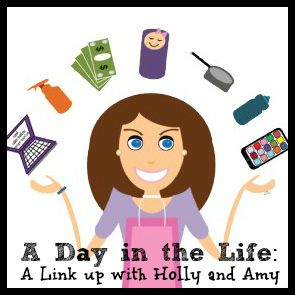 Have a great Tuesday ninjas