Happy Monday everyone. I can't wait to share my Bieber concert experience with you all from this past weekend, BUT that will have to wait until tomorrow - because today I am linking up with
Aly from Analze This for her "I Wore What?
" Link-up party. There are NO words to describe the sickness you are about to experience;)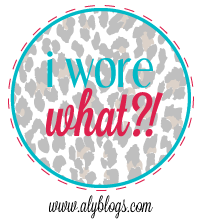 Yes I look like a geek in that hat - WTF was I thinking (college years)?
Yes Homecoming 1995-1996? Sweet hair, choker, and leg out shot (and the lipstick on the teeth look). DUH!!!
Really, overalls and a pixie cut are never the RIGHT combo. Ugh...
A Galaxy Girl shirt and those metallic shoes - looking good Mel - NOT!
Um.. yeah.. Basketball jersey's, sunglasses, and cat gnawing on the arm - not my finest moment.
Yellow top tucked into acid wash - HELLO... hot mama from the 80's.
Looney Tunes Shirts are a MUST - said NO-ONE EVER!
Well there you have it - I had a TON more but kept it simple to just a few. LOL. Hope you enjoyed my fashion faux-paus. If you want to link up or want to check it out - click the link up button below. It is going to be a rocking good time:)
Oh and a HUGE CONGRATS to

ANNIE K

who won my "Mel's Favorite Thing's" Give-a-way. YAY. That was so much fun. I can't wait to do it again.