Good MORNING... It's Thursday - AKA my Friday since I am off tomorrow and going SHOPPING:) I HAVE to find something for tomorrow night. On that note - don't forget tomorrow is STL Blogger night at
Quintessential
on Main Street in St. Charles. Oh yea... I am sure I will be blowing up Instagram and Twitter. I feel like lamesauce for not taking ONE picture when
Holly
,
Aly
, and I met up a week or so a go - bad blogger here.. So I PLAN to make up for that.
I got up again at 4 am this morning, and of course txt the lovely
Lora
- and she was UP and raring to go;) If you want to join in on the fun - Lora came up with a cool hashtag
#4aclub
for instagram/twitter - post your early pics and use the hashtag... it's going to be super fun... I remember the day I was dragging my butt home at 4am - now I am up getting my work out on... Oh the days...
My girl over at
FatChick2FitChick
is doing an AWESOME thing for Christmas. It is called #MerryPlanksmas - it is a plank challenge for December. I am soooo joining in on the fun. You know my
POTM
challenge for November was such a success - NOT! So I am REALLY hoping to plank it up hardcore and have Santa eating those Christmas cookies off my stomach;) If you want to join in on the fun - just click on my girls bum below....
Blogger Swag Swap was a HUGE success for me. The lovely and most amazing
Annie
sent me the MOST awesome swag. She knows me SOOOOOOOOO well. In the box were 2 nail polishes - this awesome navy color and gold - MY FAV! A gold Bic Band - my very 1st one - so stoked. Awesome running socks, I can't wait to try (Tarjay baby). GU Chomps - LOVE THEM and Stingers - woot. A great organizer to organize my blog posts - you are so cute Annie I loved this so much AND... my favorite SWEDISH FISH - which I ate the whole box last night watching the new episode of Duck Dynasty. Si...is AWESOME... THANK YOU SO MUCH...
And... now for the Celebrity Sightings Part....
I am linking up with
Holly
and
Erin
for their Celebrity Sightings Link up... YAY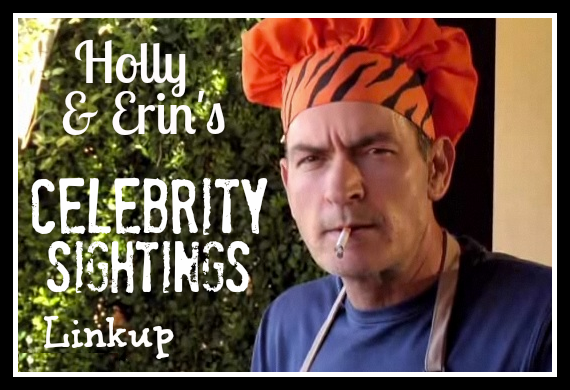 My stories go a little like this...
I met Daryl Hall and John Oats - my first celebrity meet up - EVER... I was seven. I went and saw them at the Fabulous Fox Theatre. My amazing cousin worked there and she hooked me up. I got to bring them a rose and hang out for a bit. It was EPIC and I was seven;)
Many years passed.. MANY years with no celebrity meet-ups...BOO:( BUT then My SIL got married in Vegas and we were at that Country bar called "Toby Keith's" or something along those lines. It was late, way after the wedding and reception ,and we all couldn't even see straight. I heard someone say - hey it is those Soprano guys - as I was gliding by their table to hit up the restroom. I turned around and there sat these two dudes... Vincent Pastore and some guy from Law & Order (John Munch) or something - he wears glasses all the time. Oh "hai" I gotta pee.. and off I went.. So easy breezy - a?
Then that brings us to Cal.i.forn.I.A. last year - I was in LA for a day before we went to Malibu and I saw the lovely J.Lo, her boyfriend, and the twins at The Grove.
I also saw the lovely Dianna Agron at The Grove - she looked lovely as usual.She was hidden in huge sunglasses and oversized coat - but whatev.. it was still fun..
In Malibu I saw Leann Rimes - "meh" - not a fan of hers... but she was shopping for some candy - found that ironic...
I think that about sums it up - if you count Athletes as celebrities - then I have stalked a TON. HAHAHA. I am basically the stalker that wants to look at you, but not talk to you or take pictures. I want to "say" I saw you but am too freaked out to ask for a pic. I would feel like a jackknife evening opening up my mouth to talk. LOL... Now... if I encountered The Rock... all of this goes out the window...NO HOLDS BAR.