It's Thursday and here we are again. Woke up at 3:50 a.m. - yep I DID people - I even have my girl
Lora
to back me up on this one - #4aclub right "hur". I ran 5 miles and pushed out some planks, all while listening to some good ole dirty rap. Too Short, Lil Troy, Warren G, Eazy E, Tupac, etc... were spittin their best "woman are bishes" rap - and it made me smile all morning;) AND... I even knew the words to 97% of all the songs... with Too Short's "Don't Fight The Feeling" being one I can remember EVERY word to. If you have never heard it - google it, youtube it, whatever... BUT if you are NOT into "this kind of" music, I probably WOULD NOT...
Anyways... not sure how this is going to lead into
Darci's Santa Fail Link-Up
~ but rappers love a good lap sitting too;) Sooooo... here we go. I found ONE picture (Elle) - the one of Wes somehow was mysteriously misplaced from the office (E found it, he was IN the picture, and didn't want me to put it on the blog). Can we scream FUNKILLER anyone?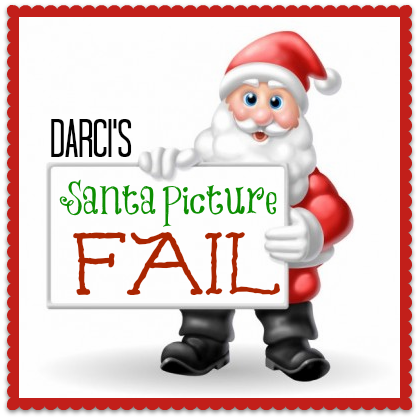 So my kids loathe Mr. Claus. Elle is 5 now and I took her the first year, second year (I had to sit on his lap - yeah... the picture was AWKWARD - sorry couldn't find it), and then the 3rd, 4th, and this year I said "WHO CARES". She hates him, she sees him from a distance and cries. On Christmas Eve she makes me stay up until he arrives and brings her gifts because she "doesn't want him NEAR her room". LOL... No for real, on Christmas Eve I say "okay he was here" and then she goes to bed. WHAT? I introduced Wes to Mr. Claus last year - he screamed and cried and E had to do some lap sitting - BAH! So this year we didn't do it... and there was NO drama.
Elle 16 Months Old - Frontenac Mall Santa (Best Santa around St. Louis)
So yeah... she doesn't like him and hasn't since day 1. Oh well... If you think about it - a big man, with a giant beard, in a red suit, goes down the chimney in your house, walks around, eats your food, etc... but he DOES leave gifts - so that is a PLUS. So there you have it - Linking up...
One more thing - I posted my OOTD on Keek today... yes I have become somewhat addicted... If you want to find me I am @4kottez. I post boring update videos - sometimes at home, in my car, at work, etc.. Tonight is the kids "Jingle Bell Ball" - they will both be performing Christmas songs with their class and you KNOW a keek will be coming on that one:)
Keek yet? Do you have a funkiller in your life? Love yourself some Old Dirty B?