Good morning - I had a rough night post-partying after the
"HJ Awards
" show - so today I thought a nice little link up with
Sarah
and
Heather
would be fitting. It's about the Holidays and since Christmas is less than a week away - here we go...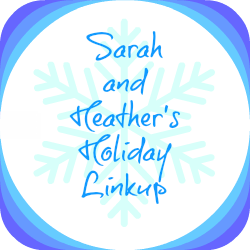 The questions are:
What's your favorite holiday movie? - ELF by far... or the old school "Grinch"
Do you have any special traditions?

- Elf on the Shelf. Christmas Eve is spent at our house with our immediate family, opening one gift and reading the story of "Baby Jesus".
What's your favorite ornament or decoration? - Favorite decoration would be the Nativity Scene from E's g-ma. However it is glass and I am too scared to put it out while the kids are little;) So it looks nice in the box that is in the basement.
Best gift you've ever received? - My Dad gave me a pendant one year when I was about 7 - it says "Daddy's Little Girl". Still have it and love it.
Worst gift you've ever received? - A green Tommy Hilfilger sweater that looked like it was for a boy. HATED IT... or these hideous CUBS boxers. First off - HATE boxers (yes people I am a GIRL) and second I LOATHE the Cubs.
Favorite winter accessory? - Scarves and Boots are you kidding me? I am all about them.
Real tree or fake? - FAKE... I am allergic to wood... no for real.. Can't do camp fires, bonfires, etc... Probably a blessing because I HATE camping or anything that has to do with being out in the wilderness.
When and how did you find out that Santa was not real? - Not sure - I think I was probably 9 or so.. and I think my mom told me... but don't quote me on that.
So link-up, check it out, vlog it, blog it, whatever you gotta do. Click the button above. Have a great Thursday. I would of vlogged but my voice is GONE. Uh OH!!! Happy Holidays to me...