It's link up day my friends and we are talking MORE running/working out - but this time it is CLOTHES... YAY! My girl Laura from
Walking in Memphis in High Heels
is like a FASHION DIVA.. and it would not be appropriate to do a link-up with her if it didn't involve FASHION. I love this gorgeous lady. So hey, hey, hey - link up with us today and let's us know some of your favorites...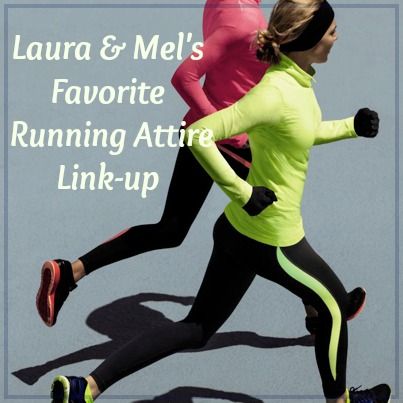 You know me - I am a FOOL for some good workout attire. So here are a few of my favorites...
My "cow looking" pull over for my first half-marathon (The Missouri Cowbell) - how fitting (Under Armour) & my Brooks gray running skirt. LOVE it.. It doesn't ride up;)
Under Armour pull-over and Brooks skirt
Speaking of Under Armour (which I LOVE) I am obsessed with this turtleneck - you all know that if you follow me on IG.
Turtle neck
And... I am also addicted to Nike.... Here are some examples...
Nike Pull over with robot sleeves:)
Another Nike Pull over
You can't have an ensemble without a fab accessory - here is my staple - my Garmin Forerunner 10
And... finally no outfit is complete without a stellar pair of shoes... Me love Brooks:)
Nike Pullover - Nike Capri's - Brooks Adrenaline GTS 13 shoes.
A few notes to take with you - I will ONLY run in the winter with long-sleeve shirts that have the thumb-hole - if they don't - I won't buy them. It is for the comfort and ease. I don't wear LONG pants - I wear shorts, capris, and/or skirts - not sure why... but I do. SOCKS are so important - nice non-cotton, breathable socks for running are a MUST. Hats are my "thang" - keeps my hair out of the way. I love me some Bic-Bands, but hats just feel the best.
And finally... one last "Mel" opinion - you never know who you might see out running, and to me - "You should look/feel good everywhere" - running in clothes that YOU feel good in, can really motivate you. When I first started running I wore these frumpy sweat pants, cotton sweat-ball top, and felt all dumpy... When I FINALLY went out and bought some good clothes - it made a WORLD of a difference. I was like "hey I got this - I am a FREAKIN RUNNER". Happy Shopping:)
Well there you have it.... Link up with us below and/or hop around and eye yourself some new running/workout digs...