Wednesday - here it is... You know when you wake up and don't like ANYONE ~ today is one of those days, probably because I had to get on the scale. I hate that jerk with a passion. So today I am linking up with Erin from
Shes A Big Star
for my weigh in. I haven't been on the scale in A LONG WHILE - since my last weigh in for the ML's Christmas challenge and we all know how that went - if not read it
HERE
. Womp.Womp.Womp...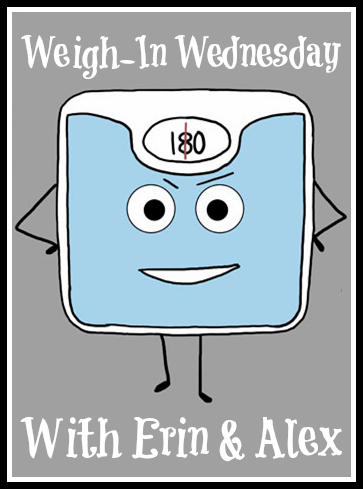 Okay let me first say a few things before you start scrolling down to look at the REAL MEL (I know that is why you are here:)... I like to eat people
and booze
- not like "oh this tastes good or I will have a small bite" - like "when is my next meal - I will have some off your plate too - 2 pieces of cake are NOT enough". So I don't struggle so much with the exercise/running/strength training - I struggle with not shoveling bags of Swedish Fish in my face and then finishing them off with 3 glasses of Pinot Noir. Yes... my name is Mel and I enjoy eating and drinking crap! So that is what this ORB challenge is about for me - finding a balance on the eating front.
Now, I am not going to lie to you all - I AM going to eat. If I come to your party and you have bacon wrapped little smoked sausages - I am going to eat 1 or 9. If we are out in Soulard, at Mardi Gras in a month, I WILL have a drink in hand (or double fisting). I can't go my WHOLE life and say "I won't" because "I WILL" and I am OKAY with that. I just have to get back on track and not use my ever staple philosophy "eh.. I screwed up today I will just wait until next Monday".
I tried no carbs - FAIL. I like carbohydrates - they make me happy and I need to be HAPPY AND FIT. So I am going to eat them - limit at dinner - but yes I am going to enjoy an english muffin in the morning with my peanut butter. So what's my big plan? Simple - make better choices, drink more water, continue with the exercise, run my a** off, when I fall off - get back on, keep myself accountable, and just be HAPPY! You know what makes me happy - this city...
I love Downtown, St. Louis...





We all love looking at Before Pics - so here you go...
So I decided to do some before pics for you people. You know I love me some selfies - if you follow me on Instagram you know I adore them, but putting THIS out there is REALLY a BIG deal for me. Ugh... So here goes... Accountability people - accountability. As I added these pics I am already making excuses in my head on why this or that - but I am going to keep them in my head and say - yes this is me...
Wednesday Weigh In = 142 lbs - just an fyi.. I am 5'5 height.
Goal is 127 lbs on the jerk scale - why 7, you ask? because 7 is my FAVORITE number... I am not going to measure anything - I just can't do all that - don't get it, don't understand it, and honestly it is all in the way you feel. People always tell me they can't believe I weigh as much as I do... but BELIEVE it people - I DO! I think the majority of my weight comes from my ginormous chest and massive intellectual brain (ummmm you know that is a joke, right?) - BAH!!!!! I guess I just carry it proportionately
in my big a**
. Who knows?
So anyways - I have to get my booty in a bikini by May 15th - because I will be jet setting to San Diego that day and mama needs to look good out on the paddle boards. Yes I WILL be learning to paddle board for exercise while I am there - the instructors don't have ANYTHING to do with it;) Bring it ON! GAWD I can't WAIT to hit up La Jolla Shores, Mission Beach, and/or Paradise Point's Beach (hoping that is where we are going to stay).
So let's hope I can get myself into a two piece swim suit - here are some contenders... I still need to hit up Victoria's Secret though... so there might be more...
Macy's
Nordstrom
Read. Read. Read : one last housekeeping item today - if you comment on my posts and are not receiving EMAILS back from me - it is because your account is set up as a no-reply blogger. I completely understand if you want to stay this way - BUT I email EVERYONE back that comments and this builds a great blogger "friendship" - oh and yes I talk a lot - so deal with it! If you want to CHANGE IT, HERE is how you can. FYI.. Holly I stole this link from you...
Well there it is - Weigh In Wednesday... BOOM and OUT!