It's Friday - I should be posting my Training Week Update 4 or 5 (who knows?) but honestly there is NONE. So I will first update on my Advocare Cleanse Day 3.
Update on Day 3
....
1. Drank my FiberDrink in the A.M. - chugged it - it wasn't that bad today.
2. Drank a TON of water - 8 8 oz glasses
3. Took my 3 Herbal Cleanse Pills before bed
4. No workout or running
What I ate:
Breakfast: 2 Hard boil eggs - I had coffee PLAIN -
Snack: 2 plain rice cakes with 2 tb natural peanut butter
Lunch: Banana and chicken breast.
Snack: Carrots
Dinner: Tilapia and green beans
How I felt:
1. I felt GOOD - not like I could rip people's heads off.
2. Headache was gone by the afternoon.
3. I had a TON of energy.
4. I woke up drenched again at night - sweat ball city.
5. I can already tell a difference in my skin - it looks HEALTHY.
6. I was a laughing mess last night - I literally laughed for 2 hrs about NOTHING. Who knows?
Alright I have my
Fun, Flirty, and Fabulous
5 mile race with Kim and Holly on Sunday - wish us luck - I will update on Monday with a Re-cap and I am sure I will be Instagramming some pics for ya -
@missmel_joy
if you didn't know;)
FINALLY.... I am linking up with Holly for What's in Yo' Fridge?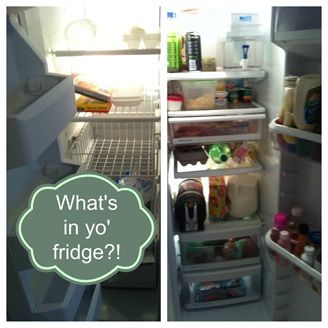 Alright here is my
INSIDE fridge
- yes I have two... we will get to the second one soon...
Staples in my INSIDE fridge...
1. Sweet Potatoes - sorry I love them.
2. Eggo Waffles - we all love them.
3. Hot Sauce - E loves it on EVERYTHING.
4. LOTS of fruit - we all love it...
5. Cheese and lots of it.
6. RANCH... RANCH... RANCH...
7. Margarine - "I can't believe it's not butter"
8. Sour Cream is our friend
Here is my
OUTSIDE
fridge....
Staples in my OUTSIDE fridge...
1. Bud Select
2. Diet Dr. Pepper, Diet Coke, and Sprite
3. An overabundance of eggs
4. BREAD.BREAD.BREAD.
5. More potatoes
6. Stuff we buy and think "eh" and leave out in the garage fridge.
7. Gatorade for "those" mornings. I am a purple color fan.
We like food - yes we do... I want to eat everything in each of these - but I can't. That bread right up there - I could eat the whole loaf right now. Mmmmm Mmmmmm Mmmmmm. Okay... If you want - head on over to Holly's blog and link up. You know you love to look in people's fridges, cabinets, drawers, etc... we all want to know - What's in Yo' Fridge?
Have a Great Weekend