It's Wednesday and that means Weigh In Wednesday with my JOB CRUSH Erin From
She's A Big Star
. Did you all know she is going to the Grammy's - I mean COME ON - that is AMAZING! I am so excited to see J.T. I can't hardly stand it. When he dances (and the king of dance... Usher) I melt into a pile of heavy breathing mess.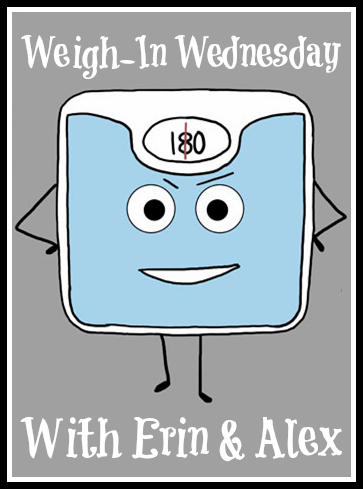 Well I am NOT going to lie - I didn't get on the scale. For real I didn't run much this weekend between hosting a shower, putting together a fireplace, spending time the kids, and drama. So I got back on the wagon this week - minus the Eggo waffles I ate on Monday - because they HAD to get out of the house... Yes.... that is my mentality. Ugh...
So here is the deal - I strength train and run. I used to do it all together after the kids went to bed, and I was in the basement from 8 p.m. - 10 p.m. and that just plain was NOT cool. I mean sports are on, I need to pluck my eyebrows, do my nails, and let's be honest... I LIKE MY BED!!!! So this week I am starting something NEW... I am getting up at 4:30 a.m. doing strength training in the morning before the house wakes, and then doing my running AFTER the kids go to sleep - so YES that means TWO A DAYS. AGH!!!
I started yesterday. I got up at 4:30 a.m. and did my strength training - it was just ME, some good ole school music, and massive amounts of sweat. It felt great, but by 5:00 p.m. I was exhausted - NO EXCUSE - I got my booty on the treadmill last night after the kids went to bed, and pushed out the 3 miles I needed to get in for my half-training. Then the alarm went off this morning and I hit SNOOZE! yeah... I slept in. Womp.Womp.Womp. BUT I only have a 2 miler to get in tonight and my strength training - so it will be a LONGER evening in the basement - oh well...
So here is my week/weekend outlook - THIS IS MY ACCOUNTABILITY POST RIGHT HERE:
Wednesday
- Evening 2 miles and Strength Train (home)
Thursday
- A.M. Strength Train (home) - going out of town for work so that will be it for that day.
Friday
- A.M. 5 mile and Strength Train (hotel)
Saturday
- A.M. 6 mile run (home) - that is all I can get in that day. I have plans;)
Sunday
- Afternoon/Evening Strength Train (home)
I am REALLY going to try and stick to this schedule if the 6 mile run doesn't work out on Saturday - I may do a switcheroo from Saturday to Sunday and strength train Saturday morning and run on Sunday evening. See I am flexible like that;)
AND... I need to keep reminding myself this...
Does Usher make you weak? Weight loss tips? Are you a morning workout person?