Thursday Workout
4 miles - outside - normal pace
Friday - Friday - gotta get down with Friday... Since I am jetting today to Memphis (well really driving down 55) I don't have much... If you don't follow me on IG you won't see my shenanigans and my 11 mile run in Mud Island. LOL... @missmel_joy if you interested;) I might be M.I.A. though, I have an agenda for this trip... so the pics might not come until Tuesday's post.
Today I am linking up with my real life AH...mazing... friend
Holly
and "new to the game"
JAKE
.... Hey you... I am one of your newest followers. HELLOOOOOO!!!!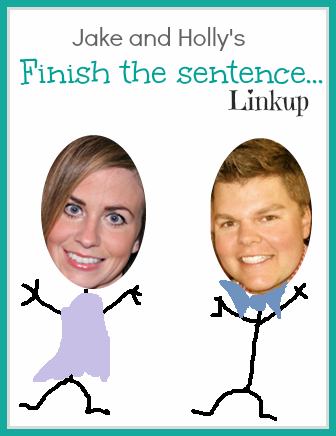 So all you have to do is finish these sentences....
1. People always tell me -
I am LOUD, smile A TON, and laugh CRAZY...
2. In the movie based on my life -
the actress would win an Oscar, because I am THAT awesome.
3. Typically, I end up regretting -
the nights I go out and
shots flow like water.
4. I always ask to leave off the -
tomatoes - HATE THEM. Don't put those things in my salad.
5. Kim and Kanye really -
have no value to me. Do I want to see the offspring - sure!!! do I care - not so much. Now Princess Kate and Prince William's baby - I am ALL OVER IT!!!
6. My Parents always reminded me
- to be a little quieter. HA... yes I am LOUD!
7. Every single day I -
hug and kiss my babies a million times.
8. This one time in College
- I wore leather pants, a backless shirt, and danced in these cages at this bar in Kansas City - oh wait... we did that often;)
9. My grossest habit is
- I chew gum A LOT and you may find gum on cups, on paper, etc... wrappers and stuff in weird places.
10. My latest white lie was
- heck... not telling E, I spent this or that... When the bill comes - it's all good:)
11. I know all the words to
- a TON of songs, but I know every.single.word. to Too $hort - I'm a Play(a)er and every other one of his songs.
12. When I grow up -
What? I am not growing up... NEVER!
13. Sexy time is -
bah! What happens to men's drive after 30? I will leave it at that.
14. I will never, ever
- be a messy person. I am an OCD clean freak and I like it that way.
15. I think it's hilarious
- when I dance in the living room and E get's all wigged out and goes upstairs. Come on... DANCE WITH ME...
There you have it - LINK UP with Holly and Jake - this was super fun. Now I am off to Tennessee.
Monday's post - WHY I AM AWESOME (vain much? - awww heck.... you know you love me;) - Linking up with one of my all time fav's Jennifer from FatChick2FitChick.
Have a Stellar Weekend