It's Tuesday - I was up LATE and up EARLY - so here I am linking up with my gal pal
Holly
and current blog obsession,
Jake
, for another "Finish the Sentence".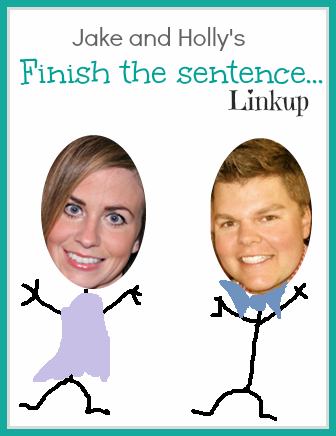 1. If calories didn't count, I would eat... nothing but cheesy bread, sushi, steak, and swedish fish AND... I would live off Margarita's as my source of drink.
2. On my Prom night.... I was the one dancing my face off and then puking my face off. Yep that is how I roll.
3. When I go to the store, I always buy... GUM... hello "Around The Way Girl" right here...
4. Family functions typically... can either go two ways. 1. if the spread of food and booze is good - you know are you in for a treat or 2. you sit on the couch watching the chaos and wish you had brought a flask.
5. I think my blog readers... are some of my best friends. Honestly - who would of knew?
6. I'd much rather be... Princess Kate... yep said it...
7. I have an obsession with.... I pretty much have an obsession with obsessing. But currently I do have a few;) Let's start... Danny Amendola (you all knew this) - Big Sexy hairspray and volume mousse (some of you knew this - LOL) - Cadbury Eggs - oh... and turning your toilet paper rolls with the roll OVER not under - yep I will do it if I come to your house.... and a few other obsessions I cannot reveal for sake of incrimination.
8. My work friends.... are awesome. My boss is one of my best friends and I love the people I work with.
9. When I created my Facebook account.... I never knew how ridiculous it would become - thank GAWD I deactivated my account 2 or so months ago. OVER.IT. I want to see a Facebook where it is nothing but video posts - let people post stuff about their life and video it - then we will see how MOST people REALLY are.
10. My least favorite word is... this is hysterical. Mine would be GERMINATE... I despise that word.
11. I really don't remember.... why I decided to sign up for this half-marathon in April. What was I thinking? It's COLD and I do not like training in the cold. It's going to KILL in a few weeks.
12. Justin Bieber.... come to mama... Nuff said...