I have officially been "running" for about 2 years now. I started consistently running after I had my son in July of 2010. I had such a horrible time losing the weight after my daughter in 2007 - you can read about that
HERE
- I wanted to REALLY give running a "GO". So I did....
I started out with 1 mile, 2 miles, 3, etc... and then after running and realizing how much I loved it (and wearing the cute clothes) I was hooked. It is not so much the feeling WHILE running but the satisfaction and pride in accomplishing "the run". I started running longer distances with my SIL Lauren and my BFF Laura when they were training for their 1st half marathon, in October 2011. They encouraged me to sign up and do it with them - since I had been training all along... BUT I chickened out.. I was scared, felt silly being a running poser, and honestly didn't want to pay the dolla dolla bills...
Fast Forward... they ran their half - did awesome and I quickly regretted not doing it... So... I kept running, strength training (you know that's my love), and trying to get my body back in shape. The
MO Cowbell Half
was coming up in October 2012 and my employer was sponsoring it - so I took the "plunge" and signed up.
I started training in June 2012 with Laura - we followed this training schedule
HERE
... It is a little different than the Hal Higdon - but it fit my schedule and I could keep up with my strength training.... Training in the summer months can be CRUEL... You can read some of my training experiences
HERE
,
HERE
, etc...
Read my First Half Marathon Race Re-cap HERE...
I had fears... I was scared to death - I didn't want to stop - or puke - or pass out - I wanted to finish and STRONG... I read a TON of blogs about their training, the race day experience, etc... and that was so helpful to me... So when Kate from
Widgeon's Nest
asked me to help her out with this LINK COLLECTION - I was all over it.... Learning from others is SUCH a great resource...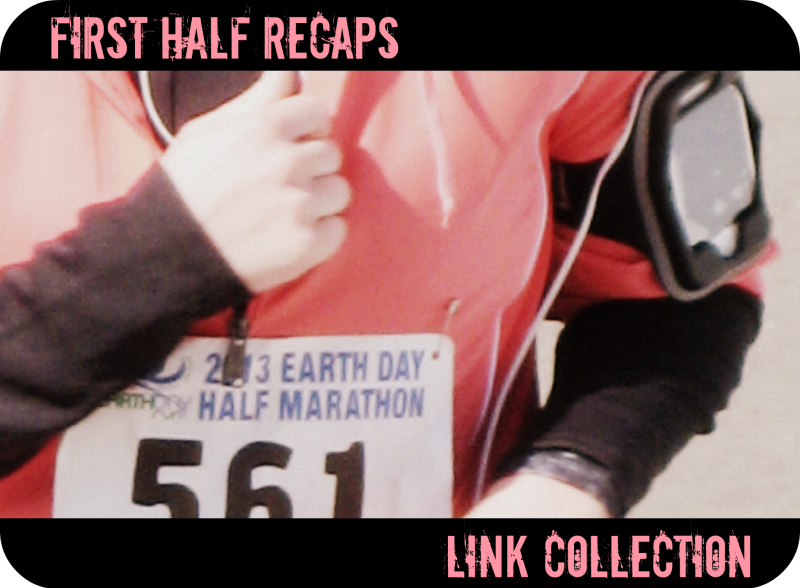 Here are some tips you MIGHT find helpful:
1. Train
- follow a plan - and REALLY try to stick with it... When you can't get the run in on a Tuesday - do it on your off day - you will thank your finishing time if you really dedicate yourself. (Hence my 2nd Half Marathon time
HERE
).
2. If you can find a partner to run with - DO IT!!!
Running with someone helps, keeps you accountable, and builds a great friendship. Running long distances and just talking... it makes the time go by quickly. Read my BFF Laura's guest post about our training together
HERE
. Womp.Womp.Womp
3. The week before the half
- eat clean and drink a TON of water. Just trust me on this one... You all know I can't eat clean for the entire training - I like cake, crab legs, pasta, and swedish fish too much;) and of course booze and I are good friends.
4. Familiarize yourself with the course you will be running
- nuff said... At least you will know that mile 11 is a straight hill for 1.3 miles - yeah... fabulous...
5. Pick up your running shirt at the Expo and put it on
... for some reason that always gets me PUMPED... Check out the expo, pick up fun stuff to wear, and start to actually feel apart of the RACE.
6. Night before the race - REST and lay out your attire.
HUGE time saver... You are going to be anxious, might not sleep that great, and anything to save time and decrease anxiety in the morning is KEY. You can read about the time I did NOT follow this
HERE
. I try to go to sleep early - take it easy the whole day before - and lay out EVERYTHING I need. Shirt, skirt, socks, shoes, bib, pins, hair accessories, gels, etc... so I just wake up and it is all there in front of my face.
7. Morning of the race - eat what you normally had while training.
This morning is NOT the time to try something new - you will thank me for this one. No one needs to stop during the race for a "restroom break".
8. Morning of the race - drink a decent amount of water before and PEE PEE PEE!!!!
Yes drink water in the morning even if you want to hurl and then pee every inch of pee out of you. If you haven't noticed I HATE STOPPING!!! Also pee before the race in the Johnny's - it may smell awful in there - hold your breath and just get it out.
9. Leave early
- give yourself plenty of time - you don't want to be nervous and RUSHED. Not a good combo.
10. Amp yourself up
- put on some Lil Troy "Wanna be a baller" while you are standing in the corral waiting to start. My last race was all about Tupac and some "Me Against the World";) - good music helps...
11. Get a cheering squad together for you
- having others there to root you on is AMAZING!!! Just ask my friend
Ashley
how much I loved it. Having someone at the finish line to hug or high five is AWESOME... It makes it all worth while.
12. During the race: use the water and Gatorade stations along the way
- KEEP HYDRATED!!!
13. During the race: HAVE FUN
- feel and look at your surroundings - all the other people out there doing what you are doing, read the shirts, high five the volunteers and kids cheering you on, when you see someone struggling - say something to encourage them - give them motivation -, laugh at yourself, laugh with others, think about WHY you are doing this and for WHOM, let it all go and just GO!!!!!!
I admit your finishing time can be important - but honestly the most memorable races are the one's I actually had FUN doing. When I want to give up and LAWD knows around mile 11 I always get that feeling - I remember that NOT everyone can run 13.1 miles - I am doing something that MOST the population CAN'T - I'm in a class all their own - I AM A FREAKING HALF MARATHON RUNNER!!! BOOM!
If you want to read my race recaps - I have a little list on the left hand side of my blog... If you are scared to sign up - DO IT!!! Just DO IT!!!! Fears SUCK... and I am done letting that stop me. So... you can see I am signed up for quite a few runs in the future AND...
I BELIEVE I am adding the Rock N Roll Marathon In New Orleans to that list.
It's time to do a FULL - what the H.E. double hockey sticks is stopping me?