Well we are ALMOST to the end of the week. I did 5 miles last night and it felt wonderful. Music and Me (Mesopotamia;). It's Thursday and I have to decide on Margarita's or Running? Laura and I have chose running 2 weeks in a row, but my mouth is salivating for a big Marg. I guess we will see. I am "thinking" we are going to choose running again. It is raining though - so Margs might be in my future....
So this weekend I have a pretty full one. I have a Birthday Party Friday night I am taking BOTH the kids to - yep... Build A Bear - here we come;) Saturday I have my FIRST Yoga (
Power Vinyasa
) class since I was preggo with Elle. (I did yoga up until I gave birth with Elle - would highly recommend for pregnancy). Hoping to get a good 7 miles in that day... and hang with my kiddos. After the kids head to bed - I am meeting up with my BFF's Bridget, Beth, and Pinot Noir at
3500 WineHaus
- yay! Haven't tried this place out yet... Then we will see where the night leads;) Sunday - it's my Dad's B-day - so I am taking the kids to go visit PawPaw for the day - and hoping to get 5 more miles in. Oh and Jillian will be in my life too this weekend. Womp.Womp.Womp. Then I will be going solo the next 2 weekends in a row. AGH!!!! Lord give me strength... hahaha
Onto better things... I am linking up with the MOST AWESOME
Holly
and
Jake
for "Finish the Sentence" Link Up Part 3.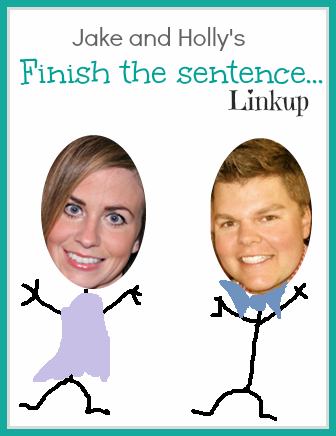 1. I laughed so hard I cried when... reading this post HERE yesterday, I watched Elle and Wes's Harlem Shake Keek AGAIN last night, when my IRL BFF Beth called me after her Margarita filled lunch yesterday and we discussed "Operation GO" and "Mesopotamia" for Saturday night.
2. My high school... years were crazy... miss some things - but mostly "nah".
3. It really pisses me off... when women are catty. Get over yourself, when you smile at someone and they don't smile back - for real it takes a second, OR when I try to hug you and I get NADA.
4. In ten years... I will be 42 - is that really possible? and sans a mini van. Sorry... I am not sorry.
5. If I could erase one thing... it would be this new bump on my nose - WITHOUT getting Rhinoplasty. Dang decisions to make - ugh...
6. In 1999... you could find me at ANY house party in the Burg - I was usually the one shaking it like a "salt shaker".
7. Honestly... I am not in the best mood this week. Bring on California - it can't get here soon enough.
8. To me, Sushi... is heaven - my happy place... along with a fab glass of Pinot Noir and excellent company.
9. Someone really needs to invent... a magic pill that allows you to shove your face with candy and cake and lose 3lbs a week. Sign me up...
10. The first time I drank alcohol... I walked 3 miles to hide the evidence in someone else's trash cans.
11. The one question I would ask God is... Why - why all this hate?
12. Lindsay Lohan... used to be HAWT - Mean Girls anyone? Now she just looks used up.