I love these link-ups with
Holly
and Jake... Link-ups.. a bloggers DREAM... Thank you BOTH!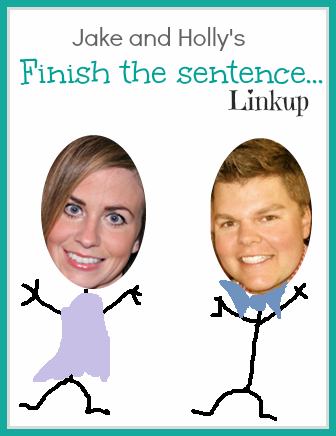 Finish the Sentence Time...
Unlike my sibling(s) (that I love very much).... - my house is ALWAYS clean...


My best friend says... - "It was Good".


People call me... - Crazy, Nuts, Not normal, Loud.... #truth


I most often dream... - about my teeth falling out or loose teeth - ALWAYS! Just had one last night.


The best part of my day... - seeing my kids smiling faces after work and that falls in line with my daily running.


I really don't understand... why everyone is so serious all the time - life is much sweeter on the lighter side;)


I get really annoyed... when people talk with food in their mouth - DISGUSTING!!!


There's nothing like a... giant chocolate milkshake... Jack N Box or White Castle are my FAV!


Lately, I can't get enough... steak - MEDIUM.... I am all over the beef these days...


One thing I am NOT is... soft spoken - booming voice up in "hurr"


I spent too much money on... me, spend too much money - NEVER!


I want to learn.... to wake board - San Diego you will TEACH me...


If I ever met _________, I would... If I ever met Danny Amendola, I would drop my pants - immediately. Inappropriate, much? yeah I know...


I can't stop... won't stop - EVER!


Never have I ever... realized how much people love to gossip and get involved in others lives until I joined the "social media" world. I really never thought my family was that intriguing - but apparently we must be. Shout out to those hanging out on my blog today to talk shiz - what up, yo?


Reese Witherspoon... is awesome - so yeah... if I was drunk and Reese, I probably would have done the same thing - "Do you know who I am". I mean come on... you know you would pull your starlet card...