Tuesday is here
(worst day of the week)
BUT I am chompin at the bit people - because tomorrow I will be jet settin it to California... I can't WAIT!!! Tonight I have a little diddy planned for
Holly
for her birthday. Spray tan and drinks at Casa Kottez - looking forward to hanging with her and Laura blogless.... Speaking of
Holly
... Today her,
Chrissy
, and
Lindsay
are having a fun BIRTHDAY link up... I would of linked up, but honestly, my b-day stories are NOT that great. If you want to link up and share you birthday stories - check it out - plus BEST b-day post wins a Kiki La Ru gift card.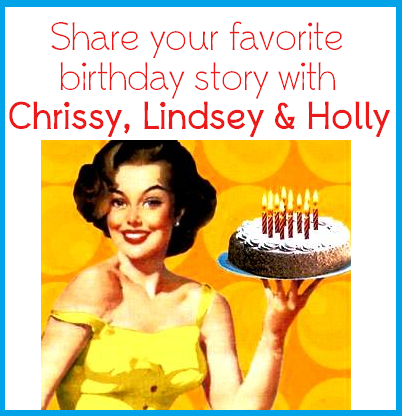 7th Birthday
... This was my GOLDEN Birthday - since I turned 7 on August 7th... Leo up in hurrr.. I was gifted 2 kittens... and then multiple trips to the allergist and an allergy panel test or 10 - yep... BINGO... cats make my throat swell up and eyes swell shut... Thank you Golden Birthday...
18th Birthday
... Went to a place called Excalibur in Illinois and enjoyed a lovely lap dance from a male stripper to "Dead or Alive" by Bon Jovi... I may/may not have touched his steel horse, as Beth would say...
21st Birthday
... Went to the East side and honestly it ended at 7:00 a.m. the next morning with a funny story about a dude named D-BO - and me not being able to move my head off my pillow for 2 days.
25th Birthday
... Surprise party thrown for me at my first house and me smoking a pack of cigs in ONE night - WHEN I DON'T EVEN SMOKE... Basically I couldn't breathe for a week. Oh, in lies the allergies again... Yep...
So... here is the TRUTH folks.. I leave tomorrow and I plan on enjoying this California trip - so I am not blogging the rest of the week and won't be back in action until Wednesday, May 22nd. BUT... be on the lookout on
IG @missmel_joy
because you know I will be on there... Oh yes and
twitter @4kottez
- sorry not on it all that much - FYI... My accounts are now private - so if you do NOT follow and want to - just send me a request. I will be recapping my escapades upon my return.
I am REALLY going to try and keep up with everyone while I am gone... but I might not comment like you are used to - Sorry (a little)... I will get back on track next week - promise....
If you are interested in an old San Diego Recap- you can read about it
HERE
...
My view TOMORROW