So.... it's May... and guess what that means? I leave for California in 14 Days... Yep you "hurrrd" me!!!
So I have decided every Wednesday I am linking up with someone/something... I like this link up stuff:)
Today I am linking up with one of my ALL TIME FAV'S -
Skinny Meg
- she is all "buff and stuff" and probably one of my biggest inspirations...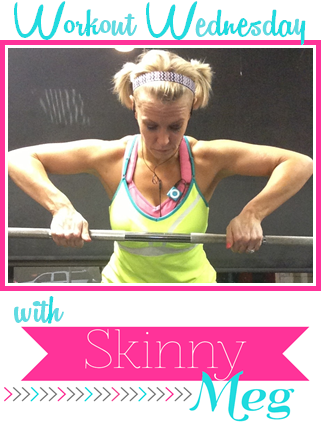 So let's face it - I didn't wake up today - Umm... HONESTY here people... So last night I did Level II Day 2 of Jillian Michael's 30 Day Shred. BOOM!!! Feeling stronger on that front and seeing some results. YAY!
Today's workout will be a 4 mile run on the treadmill and Level II Day 3 - YEAH YA!!!! Looks like it will be this evening... I am focusing on my speed on these shorter runs (did I just say shorter? - agh!!!!) - trying to break in under 9 min miles... and then busting through with under 8:30 the last mile. It's hard... sometimes I can do it - sometimes I can't BUT... I AM trying... I have
The Girls on the Run 5k
next Saturday and I want to PR... So... I am trying to up my speed...
I also wanted to share one of my favorite workouts - it really produces great results and if you turn up some Mobb Deep - you can really bust this one out. It DOES burn though - so push through it... Check it out in this post
HERE
... it is called "The Grizzly Bear" (it's under the 2nd picture). You all know I love some squats and dead lifts - so in addition to JM I always bust out at least 3 sets of 25. BOOTY.BOOTY.BOOTY!!!
Happy Workout Wednesday
How is JM going? Dead Lift fan? Mobb Deep?