It's been awhile since I did a post on just some AWESOME randomness...So here's a little bit of what I have in mind... my crazy whacked out mind...
- Elle...
it has been sometime since I posted on her wardrobe craziness. Saturday we had an EPIC meltdown at my in-laws. We get there and they have a pool for the kids to swim in. I brought Elle's new swimsuit and she puts it on - to discover that the pink flower has bleed through a bit when I washed it. She tears it off, falls on the ground, and cries that she "will NOT wear something that is damaged". This melt down happened for 30+ minutes.... We used Oxy Clean, Bleach Pen, straight bleach.... nothing worked... she continued to melt... Finally... I had to leave to pick up my dog from the groomers... I get back and *VOILA* Elle is happy... Not sure what happened or why - but the moment I left "angel Elle" arrived... and guess what - she had the freakin suit on....
- Wes...
honestly I can sum him up in a few words - CRAZY NON STOP... He never quits - he is all boy
and tends to amaze me in every way... For real... I think my sides hurt each night, not from my ab workout,
but from laughing at his craziness. Just a few Wes updates....
- Branson - at the pool - he pulls down his pants in the middle of the splash area and begins to pee in front of everyone into the water... Is this appropriate?... I think not...
- He uses inappropriate words and has taken a liking to spitting and kicking - why? Cause he is obsessed with wrestling and now he no longer gets to watch it... Womp.Womp.Womp.
- Take a look at this pic closely... For real - Hitler with his tongue out... Say what? Who acts like this?
- Saturday's Mud Run... K9Bish and I decided to hit up Cliff Cave for a nice little 5 mile run. FYI... St. Louis has been flooded and this trail floods - it is right on the Mississippi river - but it recedes nicely and usually stays fairly well. So we run... We get to mile 2.5 and the dusty mud turns to quick sand... My feet STICK... I mean STICK... I can't move - I try to pull up my right foot and my foot comes out of my shoe, the shoe is stuck in the mud and my sock foot flies immediately straight in the mud. One shoe on stuck in the mud, the other a sock foot in the mud. I am screaming "Laura I don't function like this - I don't do mud or the wilderness - this is not what I signed up for today - my foot is in the mud - there are snakes about to come out of the woods - and I swear I am going to die here". She is laughing so hard she can't breathe. Finally we get loose... I take the mud sock off - hold it in my hand - and run with one sock on and one sock off for another 2 miles. My kicks weighed like bricks from the mud... GAWD it was a crazy morning, but when we finished it was a KILLER run... What are friends for?
- Music... when is music NOT something I think about. Monday night's leg workout consisted mostly of me dancing in the basement to some good ole dance fav's... HA..
Holly, Ashley, Kimmy, Amanda - get ready I request this EVERY time I am out dancing. Probably one of my all time favorite songs to dance to. Weekend ON!!!
Must listen to this version - the Cirkut Remix... KILLER!!! In love with this chick.
Alright on that note - link up time. It's wedding season and who doesn't love to discuss their wedding - past, present, future... Oh wait you haven't met me yet? LOL... The "Real Deal Mel" will be rearing her head on Thursday and you might not have "thunk" it?
Anyways....One of my favorite questions to ask people is "What was your wedding song" - I think it tells a lot about that person (couple)... and I am nosey;) So.... Thursday
Holly
and I are hosting a fun linkup!!!! We want to know your wedding details!!!! Come share in the fun... Thursday baby!!!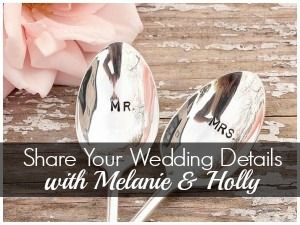 Here are a few questions you might want to use for the post...
Share Your Wedding Details
Location (church/outdoors/destination):
First Dance Song: Mel wants to know this one!!!!
What would you do different?
Mud Run Fan? Linking up with us? Hate snakes like me?