Well. Well. Well.. who doesn't love talking about their BIG DAY? It's link up time my friends... with my blog bff and real life love
Holly
. I txt Holly a week ago and said "Link Up on What was your wedding song - dumb idea or a go?" and guess what it's a GO!!!
So.... here we are... and here is how it goes... Grab the button below and link up... If you had a wedding, or had multiple, are going to have one, have one in your mind
pinterest board
, and/or are NEVER going to have one - LINK UP!!! I wanna read about the details... Grab the button below and tell us... Here are a few questions that might help and PLEASE PLEASE PLEASE tell me your wedding song... I GOTTA KNOW!!!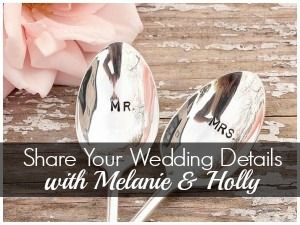 Share Your Wedding Details
Location (church/outdoors/destination):
Colors:
Bridal Party:
First Dance Song:
Honeymoon:
What would you do different?
Now... let's finally get to mine and a side of Mel you might not have known. You all know my goal in life is to be a STAR, or to get Elle in a Disney show so I can move to Cali... BUT you might NOT have known my TRUE thoughts on the full blown wedding... So you would think I would absolutely go NUTS about throwing my own party and parading around in that dress. WRONG....
Guess what? We took the money instead and bought a house... Now... I had a small wedding (70 people or so) and here are my deets:
Wedding Location:
Catholic Church... Father Leach called us Eric and Erica (My name is Melanie). Stellar. Oh and our driver ended up being a guy I had known in high-school... That was awkward...
Reception Location
: Pietro's - The BEST Italian Restaurant - because good food and strong drinks were the only things I cared about... - Nailed it...
Colors:
NONE... kind of light pink/champagne/cream - I guess? I didn't really have any.
Bridal Party:
My mom was my Maid of Honor and E's Dad was the Best Man - that was IT. No one else...
First Dance Song:
The Eagles..."Love Will Keep Us Alive". E's choice... I was like "dude where is Brown Eyed Girl on this one?". Whatever... Eagles it was... and yes it would not have been my choice - but I don't think my grandma would of enjoyed some of my gangsta song choices...
Honeymoon:
We married on May 14, 2005 we waited for the honeymoon and went to Jamaica in December of 2005. That's a whole post in itself. There were puking in plant stands, climbing of a waterfall that resulted in an a huge argument, this hideous pineapple shirt, a guy who played the saxophone outside of our room nonstop and the SAME song day and night, a traumatizing couple's massage, and a bumpy bus ride that will haunt my backside forever.
Basically it went down like this... We had a "wedding" per say - it was small and those who were invited, we were REALLY close to. I got to wear the dress - 2 actually... I had a wardrobe change before we went out that night (yes after the reception we stayed out downtown all night with friends).
But in all honesty... I know they say a girls dream is this big elaborate wedding - it just wasn't mine. We took the moolah and bought a house - 50 grand for one party I just can't fathom... NOT ONE BIT... that paid for my PMI... To each their own... If I had to do it all over... I would take the money again, wear my hair down, and have bought a dress like this (way more me):
Now I wanna hear your deets... Link up with us and share...