First, THANK YOU to everyone you linked up yesterday to expose their precious race faces... I loved reading through them...
Today it is one of my FAVORITE link-ups EVER... My bff
Holly
and one of my favs
Jake
are back in action with "Finish the Sentence".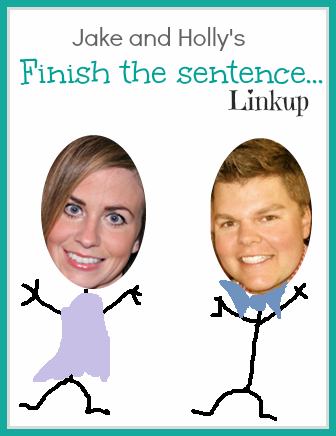 If I had one extra hour in the day... I would sleep it away, with an amazing pillow;)
I wish my name... was on a ginormous sign with big light bulbs around it.... "Super Star"...
I think anything chevron is... starting to get outdated. Never really jumped on the bandwagon - yet... "to each their own".

My last nightmare... I woke up like "yeah I don't like you today" and proceeded to keep that attitude all day. LOL

Sometimes... I would like to drop kick people... all while I never stop smiling...

My last meal on earth would be... a 12 oz Filet with the BIGGEST loaded baked potato on the planet... and a basket of bread with olive oil mixed with fresh Parmesan to dip it in... Just carbs and meat please:)

I would much rather be blonde than look like I did when I had dark hair. I looked like a washed out fool. Friends... where were you at on that one? I mean... I tell you when you have crap in your teeth or your shirt looks 1995ish - you gotta tell me these things...

Mayonnaise... LOVE IT... like a lot...

10 years ago, I didn't think... hammer pants would be back in style.

Selfishly... I will be spending EXTRA time in the basement tonight "working out" aka playing on IG/twitter/texting (after I work out, of course) since I had to take out the trash, pump my own gas, and fill up the fountains this morning. Payback...It's a two way street, right?

My favorite show on TV right now... Eh... It's still just the news and sports, people...

And, George Zimmerman... I plead the fifth here...
Thursday Out...
Chevron? Fill up fountains? What TV shows are you into you?