I started my half marathon training last week and I have decided to use Monday's to do a recap on how it all went. My weeks are going to be Sunday to Sunday.
Training Schedule in BLACK - What I actually did in
BLUE
Sunday, July 7th - 4 miles /
6 miles
Monday, July 8th - 3 miles /
3 miles
Tuesday, July 9th - Cross Train /
Leg Day
Wednesday, July 10th - 3 miles /
3 miles
Thursday, July 11th - Rest /
OFF DAY
Friday, July 12th - 3 miles /
3 miles and upper body
Saturday, July 13th - Rest /
6 miles
Sunday, July 14th - 4 miles /
5 miles
Total Miles Week 1 of Training = 26 miles
Deuces and half duck face (and the window well in my basement LOL) - deal with it ... ;)
- Week went by pretty well - not terribly exhausted and legs are feeling good - leg day threw me for me for a loop... my legs were KILLING the next day.
- Kind of sad that I only got in one leg day and one upper body day - just too busy over the weekend and focusing on the running right now. Miss it though, already.
- My appetite has increased tremendously and you all know I can already eat like a dude... I have noticed (as in the past) that my longer run days I want to shove everything possible in my face. I HAVE to manage that better. I gained during my last training and I am trying not to do that again.
- I missed running with partners - thanks to Holly and Laura I have that back... (and my SIL Lauren)
- I love running outdoors and really missed it - the weekend runs I look forward to SOOO much.
Absolutely adorable family all running together - Mom, Dad, Kids, and Grandparents
If you haven't read Holly's post today - please, please, please, please do HERE... This is one of the reason's I blog... See how wonderful meeting others can be?
Also Kyra from
It Takes Nine Months
and I will be hosting a fun running link up on Wednesday this week. If you have got some good race pics... LINK UP... I am sick of looking like a widescreen t.v. when I cross the finish line - I am HOPING with my "Running Around America" starting in Sept - I will get at least ONE decent finish line pic... If interested, link up with us on Wednesday.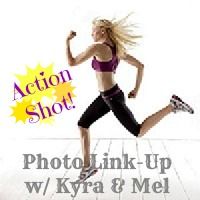 How is training going for you? Reason's you blog? Linking up with fun pics?