Linking up today with my one of my bff's Holly from
Where we can Live like Jack and Sally
(and peach pit hub) and one of my other favorite sisters Kristie from
PG Sisters
.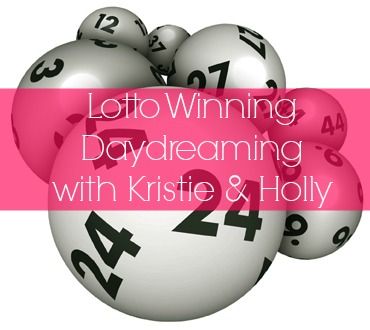 If I won the lotto I would:
1. Hire an
Au Pair
- preferable from Sweden (I like blondes;)
2. Immediately make a huge college fund for my kids when they start their Ivy League education...
3. Give a ton of it to the
CF Foundation
and
The Goddard School
- wait... did you click that site - cause that's Wes and I in that picture - BOOYA... Good lead-way into the next one...
4. Buy a Malibu Beach House... Cali is my love... and so is being a STAR;)
5. Enjoy a few
$666 Douche Burgers
(gold flaked burger) - why? because I like meat and I am RICH...
6. Pay for all my girls to go on a trip together and not have ANYONE worry about money. Just spend and splurge. Then take another trip with our families and sit our booties on the beach and not move for days.
7. Run EVERY race I wanted and where ever I wanted... Yep... No more "road trips" for races - we would be flying high my friends...
8. Disney World for a month... with every extra imaginable ~ maybe even buy a few characters to stay with us 24/7 - Cinderella and Mickey... I know you want to roll with the Kottez...
9. Fly from East to West Coast to shop - in all the high end boutiques - especially the kid one's - love em!
10. Take the money, lay it all on my bed, and roll around on it... Oh wait... I will be doing this after I get both my kids out of daycare;)
________________________________________
And... one of my promises for #getitinjuly - to get on the dang scale and post my weight... Ugh... I hopped on this morning... 143 lbs... I hate numbers, I hate the scale, and honestly whatev! I am strong, I am working out, I am running, and I will see that 10 lbs less by Sept... Now... to wire my mouth shut and handcuff my hands behind my back;) Me like food...
Fav Disney Characters? Charities you would donate to? Gold flaked burger anyone?