It's link-up day - sorry I am late... So today
Kyra
and I are hosting a link up to share your fun race pics. Get those pics ready and your barf bucket ready for mine...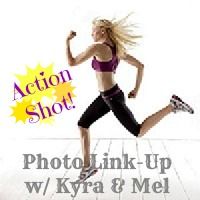 Oh that top... and please remind me to never wear those things in my hair - EVER!
Just throw up now - yes that is a sports bra... Read my story for why... and yes this makes me ill.
Please smile ONE time Mel...
Really... Miss trying to be all matchy? and I need a better place for my phone...
Now this pic was taken by the lovely
Kim
and makes me laugh EVERY time:)
ALWAYS wear sleeves Mel - ALWAYS!!!!
That's it folks.. Reality is... you don't look pretty when you run (at least I don't). I just want to get to that finish line and as fast as I can... I really have to remember that at the end they snap photos. My upcoming races I am REALLY going to try and remember.
Alright... it's link up time... Let me see yo running faces:)