Training Schedule in BLACK - What I actually did in
BLUE
Monday, August 5th - 3 miles /
OFF DAY
Tuesday, August 6th - Cross Train /
OFF DAY
Wednesday, August 7th - 3 miles /
OFF DAY
Thursday, August 8th - Rest /
OFF DAY
Friday, August 9th - 4 miles /
OFF DAY
Saturday, August 10th - Rest /
OFF DAY
Sunday, August 11th - 4 miles (goal pace) /
3.1 miles
Total Miles Week 5 of Training = 3.1 Miles
Well there you have it - it was my birthday week and I needed a break - so total miles 3.1 baby;) Sometimes I need a break or I get burnt out quickly. So... I took one... Ain't no shame...
How I felt all week - SUPER TIRED!!!
This is what I am hoping for this upcoming week:
Tonight - 4 miles
Tuesday - 3 miles or Cross Train
Wednesday - OFF DAY
Thursday - 3 miles
Friday - 3 miles
Saturday - 3.1 miles (I am racing this day)
Sunday - 12 miles
BACK AT IT BAY BAY!!!
______________________________________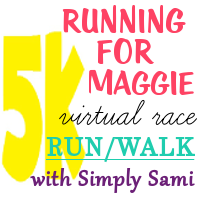 I ran my virtual 5k last night for my girl
Sami
- if you are interested in the deets check out her page today. I honestly was going to take the whole entire week off of running, but I pulled out my 5K and I was so glad I did.
Still tired Mel... ugh...


Holly
and I will be headed to Peoria, IL on Sept 7th to run the
Illinois Valley Striders Half Marathon
on Sunday, Sept 8th with
Sami
in honor of her sister Maggie. If anyone is interested in running the half with us - please let us or Sami know.
__________________________________________
And... FINALLY... I am running the "
Walk a Mile In Our Shoes
" 5K this Saturday to benefit the St. Patrick Center. I am currently running solo, so if anyone is interested in meeting up down there beforehand - just let me know:) This will be my LAST race before
Holly
and my "Race around America" starts up in September.
_______________________________________
Wish me luck - I am taking Elle to Six Flags tomorrow. In lieu of a birthday party this year, she asked if 2 of girlfriends and her could go to Six Flags. So here I go... if you don't already know, I get motion sickness from straight walking - no seriously... I can't even swing on the swings at the park - so this should be interesting:)
Enjoy The Day
Ever take breaks from running? Running Saturday in Tower Grove Park? How is training going?