It is my favorite link-up time - FINISH THE SENTENCE - Christmas Style...
Holly
and
Jake
bringing it back, bringing.it.baaack...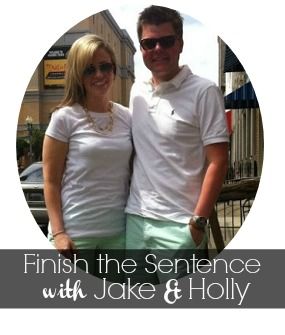 1. My favorite Christmas was....
hummm... I never really enjoyed Christmas like I do now that I have kids - they bring the magic back. I guess the one year when my brother and I swore we heard bells on the rooftop at midnight and freaked out. To this day I SWEAR it happened.
2. The worst Christmas I had...
when I was 12 and Santa brought me my first period... thanks so much.
3. That one gift that made me scratch my head and say, "Hmmmm" was...
Please read number 2 again.
4. One year I....
let's just say one year I went shopping (we did this as MY Christmas gift - I picked out stuff and they wrapped it for ME to open under the tree) and picked out all this Tommy Hilfiger stuff with the intention to re-wrap it and give to my boyfriend (I was like 16 and worked as a hostess at this restaurant that the requirement was to be 75+ to get in) I did.. he loved it... I got nada and now re-reading this back, he must of been scrawny. Ugh... HA
5. I think the worst gift to give is....
to NOT give food. BAKE ME SOME GOODS and let me have peace on Earth.
6. At Christmastime I typically....
screw up the spreadsheet majorly;)
7. Typically, family Christmas...
. is awesome. This is honestly my favorite Holiday party to attend. We eat, laugh, drink, open gifts, let the kids run wild and play with this awesome train, drink, do cheer-leading pyramids, eat, drink, and play poker at the end of the night that I usually clean up on. BOOM!
8. If I could change one thing about the Holiday season....
it would be a mandatory day off the day AFTER Christmas when it falls on a weekday.
9. It is so hard to buy for....
my mother. period. She hates gift cards and when she opens your gift and doesn't like it she doesn't hesitate to tell you. "Oh honey I would of NEVER picked out that bracelet" - thanks Mom.
10. My favorite Christmas tradition is...
taking the kids and going street to street looking at lights, our Advent Calendar openings, and our reading "The Story of Jesus" on Christmas eve - or my tradition to go home after Christmas with a perm-a-grin AKA vodka tonic face;)
11. Santa, baby, bring me a ....
DANG car... I mean I have only asked for 3 Christmas's now. I am not THAT naughty;)
- My friend Gina is hosting this great give-a-way on this super cute scarf - check it out HERE.
- My adorable friend Jenn is hosting a great give-a-way too - get over there and check out the $100 gift card you could win - check it out
HERE.
- HubbyJack is hosting an unique give-a-way - love this idea. Check it out
HERE
.
Get to linking up Friends - this is too fun to pass up!!!