Hope you all had the chance to check out my results from the "It Works" wraps yesterday - STELLAR. If you had not - check them out....
HERE
...
Today I am a "day late and a dollar short" (thank ya "ole man" for this term). So I am linking up with TWO of my absolute favorites of EVA!!!
Holly
my real life friend and blogger extraordinaire and
Trista
my blogger friend and "secretly I know we could be instant friends" friend. Today's topic... SUMMER BUCKET LIST!!!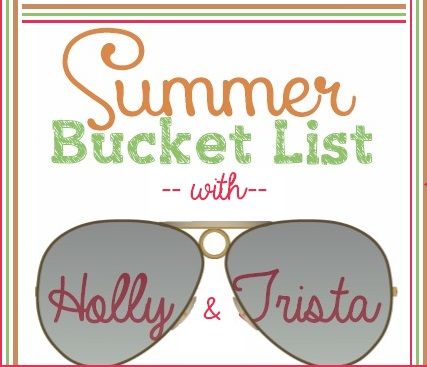 You all know my life is pretty crazy to begin with... so yes it gets more nutz over the summer... Here it is...
June Bucket List:
2 Branson trips - one this weekend and one next... PR on my 5K on Father' Day. June 21st weekend my favs will be here...
Marcy
,
Kimmy
,
Ashley
, and
Amanda
- and extra time with my girl
Holly
(miss her already). June 28 NKOTB concert... Ummm YEAH YA!!!!
July Bucket List:
Wes's B-day on the 2nd. Big 4th of July Pool Party every year - my first year in a bikini in 7 years. E's B-day on the 24th - big 33rd. Annual "NO KIDS" Backyard Bash - date TBD. Training for my half marathons coming up. Honestly... July looks pretty low key..
August Bucket List:
MY BIRTHDAY AUGUST 7th
-
yep it's a huge affair;) Ya know like a "month long" thing. Just in case you were wondering... LOL..
. Marathon training starts August 10th - EEEK! Elle's B-day on August 17th and getting her ready for Kindergarten.
The Glo Run
August 24th.
After writing this, I crammed everything into May and June.. hahaha.. Oh well the rest of the summer I am sure will book up with more things and then September it starts getting CRAZY with Ft. Wayne for a half, Tough Mudder, etc... October 2 halfs and December my FIRST FULL. Guess what??? I get to sign up TOMORROW for the FULL!! So stoked...
Next week I have some exciting things to share:)
What does your summer look like? What concerts? Full or Halfs this summer?